Sell IBUPROFEN Powder Cas 15687-27-1
Sell IBUPROFEN Powder Cas 15687-27-1
Buy Ibuprofen (Powder) Extra Pure online  and several other chemicals in categories like water treatment chemicals, laundry food colors fine chemicals etc. We offer the best Ibuprofen (Powder) Extra Pure price in India and deliveries will reach within 7-10 working days along with Ibuprofen (Powder) Extra Pure MSDS for safe handling.You can rely on us for unmatched quality and competitive pricing.
0821C 00500 is referred as IBUPROFEN (powder) Extra Pure under Research Lab Fine Chem Industries catalogue.0821C 00500 IBUPROFEN (powder) Extra Pure is used to treat pain, fever and inflammation, which includes painful menstrual periods, dental pain, migraines and rheumatoid arthritis. It can be used to treat inflammatory diseases like rheumatoid arthritis and juvenile idiopathic arthritis. It is also being used in treatment of patent ducts arteriosus and pericarditis. It is also known to reduce fever and has the ability to relieve mild to moderate pain due to common cold and can also relive minor acnes. The mechanism of its action is by inhibiting the production of factors that cause inflammation.
What is Ibuprofen?
Ibuprofen is a non-steroidal anti-inflammatory drug (NSAID) derived from propionic acid and it is considered the first of the propionics. The formula of ibuprofen is 2-(4-isobutylphenyl) propionic acid and its initial development was in 1960 while researching for a safer alternative for aspirin. Ibuprofen was finally patented in 1961 and this drug was first launched against rheumatoid arthritis in the UK in 1969 and USA in 1974. It was the first available over-the-counter NSAID. On the available products, ibuprofen is administered as a racemic mixture. Once administered, the R-enantiomer undergoes extensive interconversion to the S-enantiomer in vivo by the activity of the alpha-methylacyl-CoA racemase. In particular, it is generally proposed that the S-enantiomer is capable of eliciting stronger pharmacological activity than the R-enantiomer.
Also, It is a commonly used nonsteroidal antiinflammatory (NSAID) drug which is available both by prescription and over-the-counter. Ibuprofen is considered to be among the safest NSAIDs and is generally well tolerated but can, nevertheless, rarely cause clinically apparent and serious acute liver injury.
| | |
| --- | --- |
| Product Name: | Ibuprofen |
| Synonyms: | Ibuprofen powder; Ibuprofeno |
| CAS: | 15687-27-1 |
| MF: | C13H18O2 |
| MW: | 206.28 |
| EINECS: | 239-784-6 |
| Product Categories: | Pharmaceutical raw materials;APIs;Intermediates & Fine Chemicals;Antipyretic analgesics; NSAIDS |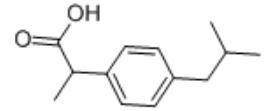 | | |
| --- | --- |
| Melting point | 77-78 °C |
| alpha | [α]D20 -1~+1°(c=1,C2H5OH) |
| Boiling point | 157 °C (4 mmHg) |
| density | 1.0364 (rough estimate) |
| refractive index | 1.5500 (estimate) |
| Fp | 9℃ |
| storage temp. | 2-8°C |
| solubility | Practically insoluble in water, freely soluble in acetone, in methanol and in methylene chloride. It dissolves in dilute solutions of alkali hydroxides and carbonates. |
| pka | pKa 4.45± 0.04(H2O,t = 25±0.5,I=0.15(KCl))(Approximate) |
| form | Crystalline Powder |
| color | white to off-white |
| Water Solubility | insoluble |
| Stability: | Stable. Combustible. Incompatible with strong oxidizing agents. |
| InChIKey | HEFNNWSXXWATRW-UHFFFAOYSA-N |
Ibuprofen is a non-steroidal anti-inflammatory and analgesic. Its anti-inflammatory, analgesic and antipyretic effects are good, and the adverse reactions are small. At present, it has been widely used in the world and has become one of the world's best-selling over-the-counter drugs. Together with aspirin and paracetamol, it is listed as the three pillar products of antipyretic and analgesics. In our country, it is mainly used in analgesia and anti-rheumatic aspects, but not too many applications in colds and antipyretics, which are far lower than paracetamol and aspirin.
1. It could relieve the acute onset or persistent joint swelling and pain symptoms of various chronic arthritis such as rheumatoid arthritis, osteoarthritis, spondyloarthropathy, gouty arthritis, rheumatoid arthritis, etc.
2. It could treat various non-articular soft Chemicalbook tissue rheumatic pain, such as shoulder pain, tenosynovitis, bursitis, myalgia and post-exercise injury pain.
3. It could acute mild and moderate pain such as: post-operation, post-traumatic, post-strain, primary dysmenorrhea, toothache, headache, etc.
4. It has antipyretic effect on fever of adults and children.
What's more, Ibuprofen has anti-inflammatory, analgesic and antipyretic effects. The curative effect of treating rheumatism and rheumatoid arthritis is slightly inferior to that of acetylsalicylic acid and phenylbutazone. Suitable for the treatment of rheumatoid arthritis, rheumatoid arthritis, osteoarthritis, ankylosing spondylitis and neuritis, etc. The product ranked thirteenth in the order of drug sales in the United States in 1985.